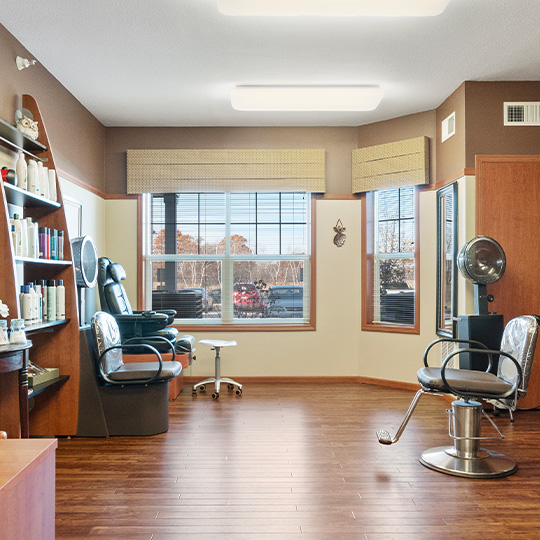 Specially-Designed Programs to Serve You & Your Family
A 360° approach to healthcare is essential in ensuring our residents' wellbeing. All our programs, services, amenities, and staff training at Arbor Oaks are created with this approach in mind.
Using evidence-based research and considering our residents' preferences and needs, we focus entirely on our residents' health, wellbeing, happiness, and safety. All our programming is designed to improve quality of life by:
Improving cognition
Decreasing pain
Reducing falls
Reducing symptoms of depression
Come see the benefits of our Arbor Oaks community. Please schedule a tour!
Featured Community Services
Inspire Wellness for Life
Inspire Wellness for Life is a comprehensive wellness program designed to improve our residents' quality of life. This program addresses each resident as a whole, unique individual and is founded on the 7 dimensions of wellness:
Physical: Choosing to live a healthy, active life
Spiritual: Living with meaning & purpose
Social: Interacting with friends, family, & the community
Emotional: Recognizing & accepting feelings
Intellectual: Following creative pursuits & inspiration
Vocational: Expressing yourself through your talents & passions
Environmental: Respecting & caring for your surroundings
Enriching Connections Dementia Certification
Enriching Connections is our science-based dementia-specific training program that gives Memory Care team members the tools to support our residents with cognitive impairment.
Through our Enriching Connections certification program, our staff learns how to develop individualized care plans for our residents to maintain their independence and promote their happiness and wellbeing.
This program concentrates on:
Relationships & Community: Everyone is invited to belong.
Commitment: Our organizational leaders are actively involved and committed to providing personalized care.
Certification & Training for Staff: All management and memory care staff members are certified through the Alzheimer's Association and have completed additional dementia-specific training.
Services: Families and nursing staff work together to create plans that promote individual preferences, independence, and dignity.
Meaningful Life & Engagement: We focus on maintaining our residents' best quality of life through Inspire Wellness for Life.
Environment: Our team is dedicated to making continual improvements so that every Tealwood community is a dementia-friendly environment.
Accountability: We always monitor our processes, plans, and culture to maintain the highest standards of care.
Regular access to physicians can improve health and wellness, so we've partnered with local doctors to provide ongoing medical care to our residents in the comfort of their own apartments. Onsite care removes the stress and worry of fighting the weather, traffic, or poor health to get to a doctor's appointment.
This partnership between local physicians, our team, our residents, and our residents' families ensures that each resident receives ongoing, high-quality medical care.
Some individuals may not be able to follow their medication and physician instructions for various reasons. Our Medication Management program is designed to help remove medication errors and overuse.
Medication Management ensures:
More patients correctly take their medicine.
More patients meet their healthcare goals.
That chances of duplication, side effects, and drug interactions are reduced.
There are fewer hospitalizations related to incorrect dosing or missed doses.
We partner with TotalCare Pharmacy to ensure your needs are met.
Our Integrative Health program blends the best of western medicine with therapeutic practices that focus on the wellness of our residents. Every service in this program is performed under the supervision of our trained nurses.
Integrative Health therapies supplement our other care programs and include:
Essential Oils: These naturally-derived oils can help promote relaxation, ease pain and nausea, and improve memory, mood, and learning.
Hand & Foot Massage: Soothing, therapeutic massage helps release stress and tension. And, when combined with essential oils, it improves mood and relaxation.
Healing Music: We play soothing music and schedule live music performances to encourage relaxation.
Guided Imagery: This unique experience helps relax your mind, reducing stress, anxiety, and pain and improving clarity, focus, and sleep.
Energy-Based Healing Modalities: Reiki and other forms of healing touch are performed by experienced practitioners to bring relaxation and increase energy.
A structured, stable routine is essential for our Memory Care residents to maintain a sense of normalcy and predictability. Our 8-8 program provides a structured and stimulating environment to promote our residents' wellbeing.
Through a series of specially-designed daily activities, our Memory Care residents can achieve a positive state of mind, a strong sense of security, and improved sleep patterns.
Hospice care is intended to provide compassionate care to our residents with advanced illnesses. At Arbor Oaks, we have partnered with various hospice agencies to provide our residents with exceptional, compassionate care by compassionate, highly-trained staff.
We offer various therapy programs designed to empower the happiness for our residents who need mobility and speech aid.
Physical therapy is intended to support our residents in regaining strength, reducing pain, and improving mobility. Our team focuses on helping our residents heal and retrain their bodies in a comfortable and supportive environment.
Occupational therapy helps our residents develop, recover, improve, and maintain the skills for activities of daily living. Through occupational therapy, our residents can regain their independence and avoid falls and injuries.
Speech therapy improves language, speech, and swallowing. This program helps our residents who have had a stroke, injury, or illness that's impacted their ability to talk or swallow.
Sometimes, you just need special care after recovering from surgery or an injury. Our Respite and Recovery program is ideal for those who only need a short 7 to 60 day stay at our community so you can rest and heal before returning home.
Our goal is to ensure you remain as comfortable as possible during your recovery, so this program includes:
3 chef-prepared meal plans available

All utilities, except phone

An emergency response team

Access to housekeeping and laundry services

A furnished apartment

Group activities

24-hour onsite staff

Continuous wellness checks

Medication administration

Nurse supervision
Where to Find Us
Access our community from Hanson Boulevard and 155th Lane NW. We're located in a quiet neighborhood in Andover with easy access to shopping, dining, and medical clinics.
Email Us
Our Address
1640 155th Lane NW
Andover
,
MN
55304