There's no rule that a senior must move to a senior living community in their golden years, but there are certainly some advantages and benefits to it. It's even possible to move into some senior communities before you turn 55. But when is it time to kick into retirement gear and make some new friends?
There isn't a hard-and-fast rule about age for some lifestyle options, such as independent living. Many of them require residents to be over 55, but depending on the type of community, some may have a bit of flexibility in this.
What Is a Senior Community?
Years ago, many people would have associated a nursing home with a senior community or "senior facility." But this is certainly not the case anymore. Of course, there are still nursing homes and other specialized care homes for older adults who need specialized medical care.
But a senior community is so much more than that. Sometimes referred to as "55+ communities," these places offer older adults a chance to retire near other residents around their age. And the services and amenities are typically geared toward older adults.
There isn't a one-size answer to what a senior community is. It could be an apartment-style complex or condos. Alternatively, it could be a small neighborhood with individual homes for sale or rent. Regardless of what type of community it is, there are typically services and amenities available to cater to the older residents.
Types of Senior Community
There are several types of senior communities out there, ranging from some with a focus on memory care or respite care. But overall, you can break these communities into 2 larger categories: assisted living and independent living.
Assisted Living
Life requires all of us to complete several activities of daily living (ADLs), such as taking care of our personal hygiene, using the washroom, or getting around daily. When a senior can no longer perform all the ADLs required for a safe and healthy life, assisted living lifestyle options may be a solution.
These types of communities may offer the respite and memory care services mentioned above. But generally, the goal of the teams that work in these communities is to give a senior as much independence as possible. All while ensuring they are eating, bathing, remembering their medication, etc.
An assisted living situation could be done in the senior's family home—called aging in place—or in an apartment or condo-style complex.
Independent Living
Independent living communities can be a great option for seniors who function independently. These communities still typically employ professional caregivers. Additionally, they will likely have team members who ensure the community stays clean, maintained, and safe.
Many independent living communities will also have apartment-style accommodations with plenty of fun things to do for their residents. But the community could also be a small neighborhood with individual homes.
The best way to find out which is best for you or your loved one is to take tours of multiple communities. This allows seeing which lifestyle is the best fit.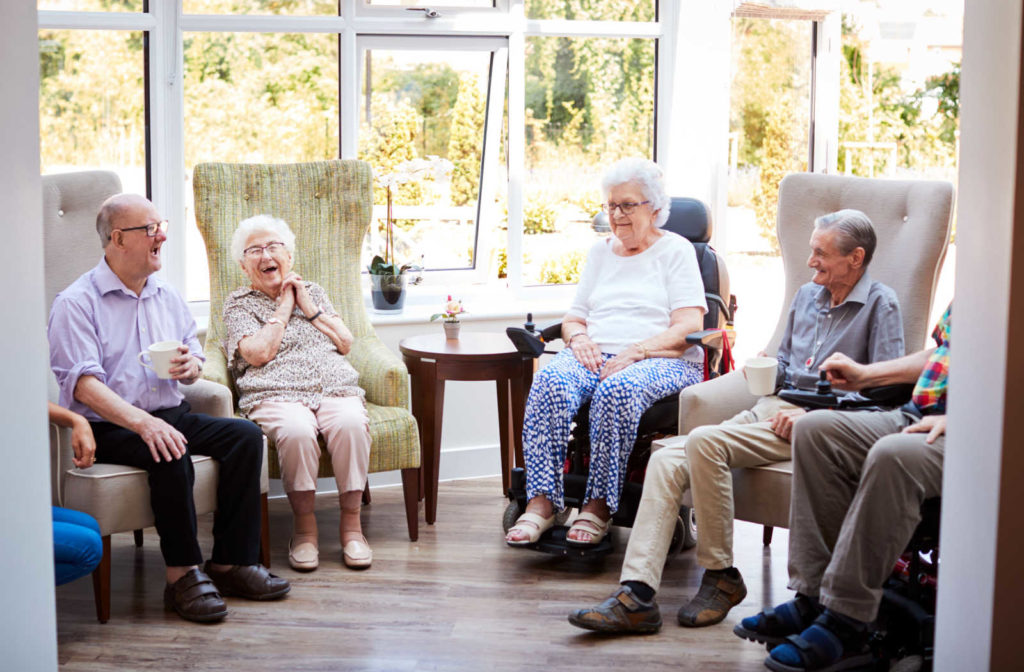 Adults Under 55 & Senior Communities
So, we've seen what some senior community options are and how they are often an ideal lifestyle option for older adults. But sometimes, there is a situation where someone wants to become a resident but doesn't meet the age requirements. Maybe there is an older adult whose spouse is under 55. Or maybe it's a grandparent taking care of a grandchild.
It's important to note that many communities have age requirements. However, there are some exceptions to the rule. For example, if a community wants to make its accommodations available for individuals under 55, it follows what's commonly referred to as the 80/20 rule, which has a few requirements:
80% of the community's residents must be over the mandated age—55, 65, 60, etc.
The community must develop policies and procedures that show intent to be designated as a "55+ community."
The community must also comply with the regulatory requirements for age verification as set out by the U.S. Department of Housing and Urban Development.
Visitors to Senior Communities
For those seniors who have grandkids, their ability to come visit is likely one of the priorities for an older adult deciding where to retire. Many senior communities will allow visitors, regardless of age. However, there may be specific hours or lengths of time they can visit for. These are questions each particular community can answer.
Find Out More About Senior Living Options
If you or a loved one is considering retirement in Andover, consider Arbor Oaks. Our team has a single goal in mind: enrich our residents' lives. We want you to spend your golden years thriving and living your best life possible.
Contact us today, and our compassionate and professional team can answer your questions. We're happy to book you a tour, so you can see first-hand how you or your loved one will benefit.