Dementia is a loss of cognitive functioning that typically starts to emerge as we age into our later years. This disorder can become quite bothersome in daily life when it is mild, and in severe cases, it can pose a danger to the individual afflicted with it. At Arbor Oaks Senior Living, our staff is specially trained to care for individuals with memory issues and dementia through our Memory Care program.
If you have any inquiries about how our Memory Care program can help you or a loved one, please contact us — our knowledgeable and friendly staff will be able to quell your concerns and get you the information you need.
What is Dementia?
Dementia describes a disorder involving the loss of cognitive functioning to an extent that interferes with a person's quality of life and daily activities. Cognitive functions like thinking, remembering, and reasoning are affected negatively by dementia. Some people who are afflicted with dementia have difficulties controlling their emotions and may go through changing personalities.
Dementia can range from a mild stage where it is just starting to affect cognitive functions, to a severe stage where a person will have to totally depend on others for the necessary activities involved in daily life (eating, drinking, bathing, etc.). Symptoms of dementia arise due to previously healthy neurons ceasing to work in the brain, losing their connections with other brain cells, and then dying. Everyone will experience losing neurons as they age, but people with dementia experience it at a greater rate.
The most common forms of dementia are:
Alzheimer's disease — this is the most common form of dementia in older adults. It is caused by changes in the brain; this includes the abnormal buildups of proteins known as amyloid plaques and tau tangles.
Frontotemporal dementia — this is a rare form of dementia that typically occurs in people younger than 60. It is associated with abnormal amounts or forms of the proteins tau and TDP-43.
Lewy body dementia — this is a form of dementia caused by Lewy bodies. Lewy bodies are abnormal deposits of the protein alpha-synuclein.
Vascular dementia — a form of dementia instigated by conditions that have caused damage to blood vessels in the brain or have interrupted the flow of blood and oxygen to the brain.
Mixed dementia — a combination of two or more types of dementia.
The Differences Between Aging & Dementia
While developing dementia is more common as people grow older — about one-third of people age 85 or older have some form of dementia — it is not considered a normal part of aging. It is entirely possible to live past 85 without any signs or symptoms of dementia. Extremely mild cases of dementia can also be managed independently and will not greatly affect daily life.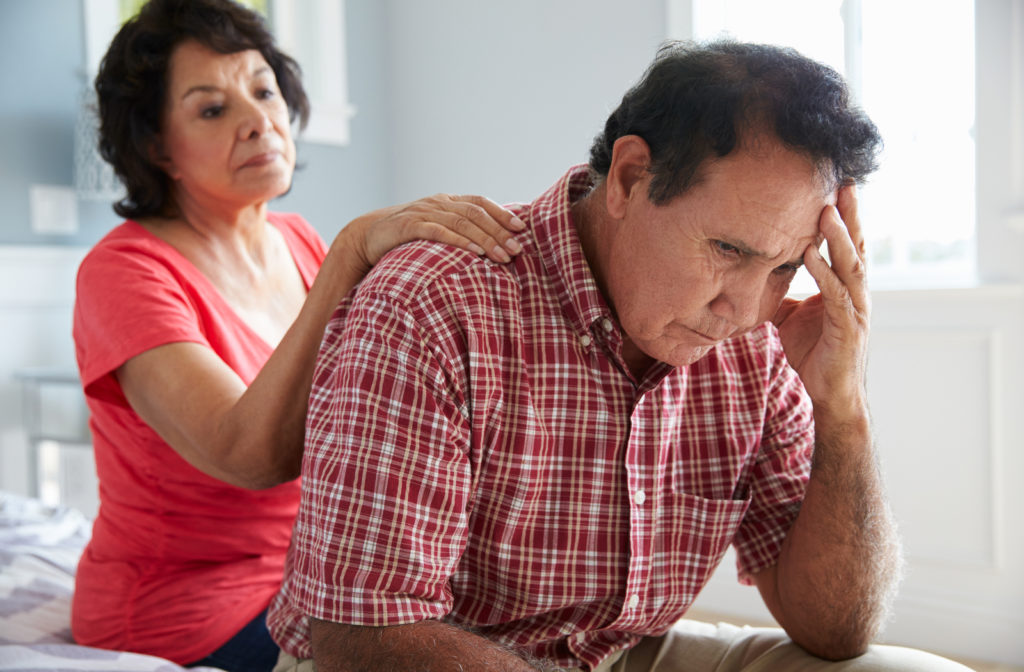 Symptoms of Dementia
General symptoms of dementia may include:
Experiencing memory loss, poor judgment, and confusions
Having difficulty speaking, reading, and/or writing
Having difficulty understanding and expressing thoughts
Getting lost in familiar neighborhoods
Having trouble handling money responsibly
Repeating questions multiple times
Using alien or unusual words to refer to familiar objects
Taking longer to complete daily activities
Losing interest in daily activities
Hallucinating
Experiencing delusions or paranoia
Acting impulsively
Not caring about other people's feelings
Losing balance
Having problems with movement
What is Memory Care?
Dealing with dementia by oneself can be an isolating experience and in many situations can become dangerous if not monitored properly. Arbor Oaks Senior Living offers a Memory Care program that is expressly designed to provide personalized care and support for people dealing with dementia and other cognitive problems.
The services and programs included in our Memory Care program provide stability and security for our patients while engaging their minds and bodies — we also utilize scientific practices to ensure the best results. Our experienced staff is equipped with specialized training for dementia that allows them to build trusting relationships with residents while providing the care that they need. We are committed to providing you or your loved one with the best care available and want to support our residents by looking after their physical, mental, and emotional well-being.
Enriching Connections at Arbor Oaks
Enriching Connections is our scientific, dementia-specific training that our Memory Care staff undergoes to look after Memory Care residents. This advanced training regiment gives our team members access to the proper tools and resources that will help effectively care for residents afflicted with dementia or other forms of memory loss. The focus of Enriching Connections is:
Relationships and community — ensuring everyone has a place to belong.
Commitment — our leaders are actively involved and committed to providing expert personalized care.
Certification and training for staff — all management and memory care staff members are certified through the Alzheimer's Association and have completed additional dementia-specific training.
Services — families and nursing staff are encouraged to work together to create plans that will promote individual preferences, independence, and dignity.
Meaningful life and engagement — our team is focused on maintaining our residents' best quality of life.
Environment — we are dedicated to making improvements to our living spaces so that every Tealwood community is completely dementia-friendly.
Accountability — we remain diligent in monitoring our processes, plans, and culture so we can ascertain and maintain a high standard of care.
Our Community at Arbor Oaks Senior Living
If you are curious about the memory care program at Arbor Oaks, please contact us — our friendly and knowledgeable staff will be able to help you get the information you need to make an informed decision about senior living. You can also schedule a tour of our community to help familiarize yourself or a loved one with the layout before deciding to move in.